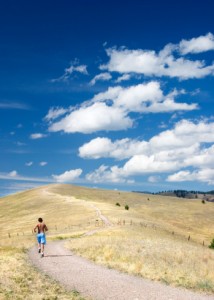 There are a LOT of people who are addicted to running.  We live to run which is quite interesting really, because in essence, running lets us live life to the fullest.
Truth be told, there are hundreds, if not thousands of blogs about running all over the Web, proof that the whole world has embraced running not just as a sport, but as a way to develop a healthy and active lifestyle.
In as much as I'd like to list down all of these blogs, it will probably take me weeks to finish this gargantuan task. And you're going to end up with a headache if you plan on checking all of them!
So, to make things easier for you and me, I've come up with a list of the top 100 QUALITY and best running blogs that are still fairly active today. These blogs are regularly updated and they provide quality information, tips and advice that will benefit both beginners and seasoned runners.
I hope that through these running blogs, you will be inspired, motivated, and challenged to run faster, stronger and longer. So here we go, the Top 100 Best Running Blogs of 2014 !
Runblogger.com's creator is no other than the great Peter Larson who aside from having a stellar professional background, is also an avid runner. He has completed a 50K ultramarathon, 9 marathons (including the Boston Marathon), and many short distance races.
His blog has everything—from invaluable running advice to comprehensive shoe reviews, and even the latest running apps. So, whether you're contemplating about what running shoes to buy next weekend or you want to know if a human can actually outrun a cheetah, you'll find all the answers at Runblogger.com.
This is a personal blog of renowned coach Jay Johnson, the current director of Boulder Running Camps. He produces his own DVDs and is a regular contributor of Active.com and Running Times magazine.
CoachJayJohnson.com has been around since 2008 and it's filled with plenty of helpful information and guides about running. A great thing about CoachJayJohnson.com is that it showcases plenty of podcasts and videos that can really help aspiring and seasoned runners improve. Coach Johnson also shares his favorite books, articles and workout programs on his blog.
StrengthRunning.com is owned by 2:39 marathoner Jason Fitzgerald, who is also a USATF-certified coach and author of 101 Simple Ways to Be a Better Runner. The website has hundreds of articles about various running topics such as injury prevention, training programs and workouts, barefoot running, weight loss, and coaching.
If you're serious about becoming a better runner, this blog is definitely worth a look.
The Science of Running was created by Steve Magness who is currently Head Cross Country coach at the University of Houston. His blog has been around for over 8 years (started 2006) and has close to 300 helpful articles that are "scientific" in nature. The Science of Running explains the why's and how's of running, such as, "Why we land in front of our center of gravity" or "how to run with proper biomechanics."
Anyone looking for answers pertaining to running should visit Science of Running. It has all the logical and scientific information you need.
If you want to run injury-free (don't we all?) then you must visit Jeff Galloway's Blog. As you probably know, Jeff authored the run-walk method which is designed to help you run injury-free no matter how old you are.
Jeff Galloway's Blog is a great source of information for every runner, and he shares with you tips and advice on how to train during the holidays, how to prepare for your race day, how to reduce pain by controlling your stride, how to recover after a race, and others.
Admittedly, there aren't a lot of articles on his blog but in spite of that, each and every post is a gem, and his blog will help you improve your performance as a runner.
The Science of Sport is owned by sports scientists Ross Tucker, Ph.D and Jonathan Duga, Ph.D. They specialize in human performance, fatigue, sports management, and exercise physiology.
The Science of Sport is a website of sorts, focusing mostly on running and cycling explained in various levels of scientific analyses. Whether it is running technique, high performance, or physiology that you're curious about, you'll find facts, figures, and advice on this site.
Mud, Sweat & Tears (MST) is a UK-based site dreamt up by Matt Ward. It has everything you want to know about off-road running, including running events, the latest tidbits on elite runners, advice and tips, and related news and updates. MST has a treasure trove of articles that any off-road runner will certainly be happy to read.
SaltmarshRunning.com is owned by Jason Saltmarsh who started running in 2009. On his blog, you'll find running book reviews as well as running product reviews (KT tapes, protein shakes, etc). But more importantly, his blog is also filled with advice related to running a marathon, optimal running gear in different weather conditions, recovery, diet, and workouts.
SaltmarshRunning.com is a witty and fresh blog that both newbies and advanced runners will definitely enjoy reading.
RUNNER UNLEASHED was created by Gelcys a.k.a. Cheetah G who was diagnosed with scoliosis when she was only 14. She has been running for many years and has just recently ran a full marathon. The site reflects who she is, funny and witty. You'll find information about nutrition, stretching, running form, and core strengthening on her blog.
10.  Sweat Science
Sweat Science is not actually a blog, but a column in the Runner's World website. All articles are written by Alex Hutchinson, who talks about various topics relating to the science of exercise and fitness. Hutchinson is a national-class runner, former physicist, author, and was also given a National Magazine Award for his scientific journalism.
Some of the articles you'll find on Sweat Science talk about when your body needs protein, stride variability, race tactics, running altitudes, calorie burning, and more.
The Hungry Runner Girl is a blog that talks about…food. Well, OK that's not exactly accurate. It's a blog about food, running, and the musings of an avid runner on topics such as her family, travel, and just about anything under the sun. You'll also be able to take a peek into the author's (Janae) favorite running gear such as clothing, shoes and accessories on her My Gear page. There are tons of articles posted on The Hungry Runner Girl because Janae publishes up to 2 posts in a day!
Ask the Sports Doc is another column on the Runner's World website. All articles have been written by William Roberts, MD who's a professor in the Department of Family and Community Health at the University of Minnesota Medical School. He specializes in sports medicine and has authored many books and publication on the subject.
Ask the Sports Doc is essentially filled with Q&A type of articles on various topics about running, including injuries, injury treatment, medicine, health, disease, and supplementation. If you have medical-related questions about the sport, you'll probably find the answers at Ask the Sports Doc…or you may just ask him directly by emailing him at sportsdoc@rodale.com.
13. ROADSMILLSLAP
Such a quirky name for a blog created by 2:32 marathoner Duncan Larkin who, many years ago, weighed 230 lbs and could not even run 2 miles. Fast forward several years later and he achieved a lot of running awards including the Hudson-Mohawk Marathon, the 100-mile Himalayan Stage Race, and the Napa Marathon.
His blog ROADSMILLSLAP does not have a lot of content but he has published lengthy interviews of elite runners. The blog also has a section where he talks about his books, Run Simple and Oxygen Debt.
Running Technique Tips was created by Brian Martin in February 2011. His goal was to create a website that will allow people to improve their running technique so they can run better and avoid injury. The site is a testament to two years of hard work and research on the topic of running technique.
It also shares information and advice regarding strength training, training philosophy, drills, and running gear reviews.
15. Reidcoolsaet.com
Reidcoolsaet.com, to quote its creator, is a site filled with the "ramblings of a runner." Reid Coolsaet travels the world to join marathon events although he is based in Ontario, Canada. He writes about his running journeys on his blog and just by simply going through several pages, you'll learn a lot about how to improve your own performance and do well in the next race.
Dr. Nicholas Campitelli, better known as Dr. Nick, owns and maintains this blog, which is filled with articles about injury treatment and prevention, stretching, and training programs. His blog also includes running shoes reviews and a list of his favorite books, blogs, and running gear.
Dr. Nick specializes in Podiatric Medicine and Surgery, so if you have concerns and questions about running injuries and treatment, you might just find the answers on his blog.
17. Christopher McDougall's Blog
Anyone who's into running knows who Christopher McDougall is. Unless you've been living under a rock, you know that he wrote the national bestseller, Born to Run. His blog contains a lot, and by that we mean huge amounts, of information relating to running. It's mostly about updates on runners and running events and of course bare foot running. But his posts are by all means, helpful if you can manage to sift through all that pile of information.
Whether you have read his book or not, you'll learn a lot from his blog!
18. Fetch Everyone
Fetch Everyone is the ideal running website for beginners. The sheer amount of information can be overwhelming but if you're looking for tips and advice, you'll find them all here.
Aside from that, Fetch Everyone also has some pretty cool features such as a Training Log where you can record all of your running, a forum where everyone can discuss just about anything under the sun, FetchPoint which is a game you can play while running, and a race calendar.
19. iRunFar
If you're anything but a newbie to running, you'll love iRunFar which gives you plenty of info about trail running and ultramarathons. They have the latest news and updates, race reports, running gear reviews, trail guides, and editorial opinions and insights.
Lazy Girl Running's creator Laura Fountain was a lazy girl, hence the blog's name. But she eventually realized that she wanted to run and she dedicates her website to sharing her own experiences, learning, and research so that others can benefit from them. From training for a marathon, to training for a triathlon—you'll get insights on how a complete newbie can really achieve milestones in running.
21. No Meat Athlete
This blog is dedicated to help you "run on plants." Matt Frazier shares his knowledge of plant-based recipes and diets as well as training tips to help you become a better, healthier, and faster runner. It's a very personalized blog and you'll enjoy reading each and every post he's written—even if you're not a vegetarian!
22. DC Rainmaker
DC Rainmaker is an online resource for runners and triathletes. You'll find reviews of the latest and most popular gear, as well as tips and tricks on how to use your sports gadgets.
Ray, the guy behind DC Rainmaker, is a "techie" who also happens to be passionate about running and triathlon, which is pretty evident in all his posts. If you're into sports gadgets, this website is going to be quite helpful.
23. RunningPhysio
Running and Physio go hand in hand, and it's such a relief to find a website that's actually devoted on these subjects. Tom Groom, a physiotherapist and avid runner, created RunningPhysio where he gives injury advice and recommendations on how you should train to prevent injury. Whether you are suffering from shin pain or you want to know if the Kinesio tape actually works, you'll find all the information on RunningPhysio.
Ian Chitson, the man behind Running OK in the UK, talks about his trainings and marathon journeys. You'll also find running gear and book reviews on his blog. Plus, he shares recipes that are supposedly going to fuel your running (watercress salad, anyone?).
25. NYC Running Mama
If you're a mom who happens to love running, then you'll fall in love with NYC Running Mama. It's a blog that chronicles how the author was able to run a marathon while pregnant (among other things), and she also writes about how she manages her life as a mother, triathlete, and runner.
You'll get some wonderful insights from NYC Running Mama and it will inspire you to keep running, in spite of a busy schedule!
26. Sweat Once a Day
Sweaty Emily (she answers to "Sweaty") is crazy about running. She's completed 19 marathons, 1 50-miler, 3 50ks and too many to count short distance races. Read about her training recaps and running journeys on her blog.
27. Black Girls RUN
Ashley Hicks and Toni Carey created Black Girls RUN in their effort to help address the growing obesity problem in the African-American community. They want to encourage women to start a healthy and active lifestyle. You'll find training guides, articles about health, nutrition, weight loss, and fitness, among others. It's a website that will have something for both newbies and veteran runners alike.
28. Meals and Miles
Meals and Miles is Meghann Anderson's journal about food and running. What's great about this blog is that a lot of people can relate to Meghann. Her story began nearly 6 years ago when she realized she was already overweight. She set a goal to lose 20 lbs by working out, giving up on sweets, and trying her luck in running. She achieved her goal 4 months later and lost 5 pounds more in the months that followed.
The thing that makes Meghann's blog very easy to relate to is that she doesn't intimidate you. She's just like most runners who don't really run a marathon everyday. She runs 3-4 miles on most days, and just like many of us, she absolutely loves running (and food).
13 Going on Crazy is a blog created and maintained by Melissa who did the craziest thing- completed 13 half marathons in one year. That probably won't impress pro runners out there but hey, that's quite a feat for someone who never thought she'd actually like the sport.
30. RunGiaRun
Marathon runner Gia Alvarez equates training with racing, so she always trains hard and pushes herself to the limit. On her blog, she details her running and travel adventures. She also shares some delicious recipes that are easy to prepare and good for your body.
31. Through Heather's Looking Glass
Heather Montgomery is a 20-something runner who lives in Mississippi with her hubby and 2 pet poodles. Her blog is all about her running journeys and some healthy recipes that she shares with her readers so they too can be fit and healthy, just like her. Through Heather's Looking Glass is a refreshing blog and its reader community is quite active too.
Jay Dicharry, the owner of An Athlete's Body, is a board-certified Sports Clinical Specialist and was also the Director of SPEED Clinic at the University of Virginia. He is a certified coach and has a competitive record in running, triathlon, and cycling.
He recently launched a book, Anatomy for Runners, which is a compilation of a decade's work wherein he helps you optimize your health, increase your speed, and prevent injury during training and races. If you're not yet ready to purchase the book, don't worry, you will find loads of running information on his blog.
Caleb Masland manages a running team called Team Wicked Bonkproof which comprises a group of daredevil runners who'll stop at nothing to achieve their goals. In his blog, Coach Caleb provides lots of tips about anything and everything that's critical to running. You will get invaluable advice from his blog and not spend a single dollar for it! Head on to Coach Caleb's blog and be on your way to becoming a better runner!
34. Daily Mile Blog
This blog is filled with inspiring stories from "dailymilers." If you ever need inspiration or that extra push to get out of the bed at 5 in the morning to run, check out Daily Mile Blog and you'll get tons of those. Definitely a member of the top 100 best running blog list for 2014 !
On Healthy Tipping Point, you'll find plenty of advice about how you can manage different aspects of your life and still be fit and healthy. From taking care of the family, to ensuring everyone's getting proper nutrition, to training for marathons and triathlons, the site is a veritable resource.
36. Birthday Shoes
Don't be deceived by the name, Birthday Shoes is actually a pun for "barefoot shoes." Justin Owing's website is dedicated to minimalist running. You'll read about barefoot running shoes reviews, running trails and ultramarathons in barefoot shoes, and even finishing the Boston Marathon in under 2:30 wearing a FiveFingers footwear. If you're a minimalist runner, Birthday Shoes is the perfect website for you.
37. National Post Running Blog
Canadian Ben Kaplan writes for the National Post where he has his own column. It's filled with thoroughly researched articles that are actually quite interesting. He wrote about a brain chemical linking exercise to anxiety and stress prevention and using "smart socks" as a way to prevent running injuries, just to name a few.
38. Runners Connect
Runners Connect aims to help runners run faster. There are plenty of articles about training, nutrition, injury prevention, interviews and training videos. You can also schedule a one-on-one coaching through the site.
This site is written in both English and French; and it's a great read if you want to know more about biomechanics and minimalist running. There are also articles about injury prevention, proper hydration, and marathon footwear.
40. Beer Runner
If you love beer and running, then you MUST check out Beer Runner. This column is filled with posts about running and beer (surprise! surprise!). Read Tim Cigelske's 5 Reasons to Drink Post-Run Beer and Fuel Up with the Beer Bean, and who knows? You might just get another PR on your next run!
If you're looking for running footwear reviews, you'll find them in Believe in the Run. It's a no-BS review site for running gear products. As a bonus, some of their reviews also come with promo codes so you get a discount if you do decide to purchase.
42. iRunnerBlog
iRunnerBlog is an active site with an equally active community. It's a collection of running tips, training advice, marathon training programs, running stories, gear reviews, recipes, and others.
43. JILL WILL RUN
Jill is a distance runner and a certified running coach who coached for Team Challenge for 4 seasons. She started blogging way back in 2001. Read her book reviews and reviews of running gear and apparel, fuel and nutrition, movies, and others.
Running Shoes Guru is filled with shoe reviews so before buying a new pair, be sure to visit the website for some sound advice. The site also features running tips including training, proper nutrition, fueling, injury treatment, and so much more.
45. RunBlogRun
You'll find over 3,000 articles on RunBlogRun and it's still growing! A blog that was created in 2007, this site gives you the latest tidbits in the running world. So whether you're looking for news about Alan Webb's retirement from track and field, to the latest updates about the Boston Marathon, you can head on to RunBlogRun to read all about it.
46. Old Man Running
78-year old Allen Leigh has been running for 40 years and counting. As a guy who thoroughly enjoys running, he now also enjoys a healthier and stronger mind and body even at his age.  Some of his personal bests are a 19:48 5K at age 46 and a 2:20 half marathon at age 71 which is pretty impressive for his age group.
If you're in your 40s, 50s, 60s or even 70s, you'll get inspired by Old Man Running. You'll learn that you're never too late or too old to run.
This blog contains anything and everything about running, from workouts, recipes, and injury prevention, to interview with running greats like Jeff Galloway, Bart Yasso, Hal Higdon and John Bingham; book reviews, "my first marathon" stories, gear reviews, and a whole lot more.
Runner Dude's Blog is owned and written by certified running and fitness coach, Thad McLaurin.
48. The Complete Running Blog Network
This blog, or more accurately, blog network is an assortment of articles on various subjects about running. It houses many bloggers who are all passionate about running. Additionally, it has a section called Running Blog Family Directory where you get links to the running blogs of their 1,700+ members.
This blog is a personal journal of someone who's run dozens of 50ks and 100ks and even 100 milers. To this day, he still signs up for ultra distance races. This guy's amazing and his blog, equally so. Get some insights and inspiration from such a humble individual, and perhaps you too will feel motivated to finish an ultramarathon, or two, or perhaps three.
Scott Dunlap's A Trail Runner's Blog is filled with articles about his adventures doing trail runs, marathons, ultramarathons and triathlons. His blog also has reviews of running gear, interviews with running legends, and lots and lots of pictures.
51. Feet Meet Street
Running without humor can get boring so if you want to have a few laughs while learning something new, check out Feet Meet Street. This guy's pretty hilarious but don't let all that craziness fool you, he's finished numerous marathons and half marathons and he can without doubt teach you a thing or two about running.
52. Lil Runner
Lil Runner is a website full of information about healthy eating and how to train for half marathons and marathons while pregnant and/or taking care of small children. Check out her meal plans, recipes, and running gear reviews.
Written exclusively by a foodie runner (Julie), expect to find lots of photos of delectable food on her blog. She also has healthy food recipes, reviews of nutrition and energy bars, as well as reviews of running gear and apparel. On her blog, Julie also shares her marathon trainings and workout programs.
You'll find the latest news articles about running at Cross Country Express, whether it's cross country or track and field, it's all here. The site also features athlete interviews, coach interviews, and even inspirational videos and photos.
55. Run Westchester
Written by a 55-year-old avid runner who lives in Westchester County, NY hence the blog's name. The author's been running since high school. Run Westchester is his running journal where he details his experiences, challenges, triumphs, and heartaches.
Starting a healthy diet? Marcia's Healthy Slice has lots and lots of recipes for you. What's interesting about this lady is that she just one day decided to run a marathon for the heck of it, and in her second marathon she qualified for the Boston Marathon. Imagine that. Find out more about Marcia, her life, her favorite "hobby" (running), and even get to read her personal reviews of running gear and food products.
57. The Running Man
After losing over 50 lbs, Wyatt Hornsby decided to take distance running seriously. He has so far completed more than 40 marathons and ultramarathons, including the Leadville 100 and the Mohican 100. He's also finished the Boston Marathon twice. Whether you're a beginner or a seasoned runner, you'll get plenty of tips and advice (and inspiration) from The Running Man.
58. Run DMT
Run DMT is a blog maintained by Denise, a mom on the run. Moms who love to run will enjoy reading her blog. It's not only filled with articles about her running journeys but it also has lots of yummy recipes that are good for you and your little ones.
59. JogBlog
This blog chronicles a woman's running adventures. She talks about her workouts, frustrations, misfortunes (in running!), and challenges. Read about her Janathon journey in JogBlog.
60. Two Motivate
This one's a blog of an excellent female runner (2:50 marathon) who happens to be a mom of two young kids. A lot of women can relate to her, and her posts are like a breath of fresh air.
61. Shut Up + Run
This blog's hilarious. Seriously. You will enjoy reading every post. Beth's a very funny runner, or rather, she likes to make fun of herself and her misadventures. But on a more serious note, there's plenty of tips and tricks on her blog, from learning how not to crap your pants on the run to how to avoid hitting the wall. Her posts are inspiring too. In fact, her tagline is: It really is mind over matter. No excuses. Just do it!
Carie Arnett epitomizes a busy mom. With 3 kids (two with special needs) and 2 Labradors, she hardly found time for herself and didn't feel completely happy with her life. It wasn't until she discovered her passion for running and triathlon that she finally was able to let go of her past and challenges herself to be the best she can be. Learn all about her and her life on Let Go & Run Free.
63. Runs for Cookies
We all have our reasons for running and for Katie, it's cookies (and other desserts). About 4 years ago, she weighed 253 lbs and in the course of 16 months, she lost 125 pounds through diet and exercise. She refuses to give up sweets so she decided to be a runner. She's someone many can relate to, and she inspires thousands of people to strive to be fit as well.
64. Neon is My Color
Neon is My Color is the ramblings of a runner mom who likes to wear neon colors. Currently, she's training for the Boston Marathon and you can read all about it on her blog.
65. Margaritas, Miles & the Mouse
This one's a blog written and maintained by a non-traditional runner. She's a mom of 4, and she just loves runDisney (she's been joining the races since 2011). So, if you're into the same things, you will enjoy her blog for sure.
66. A Change of Pace
Theresa Unruh is a nurse, foodie, and a runner. She's very friendly and enthusiastic (yes you can actually figure that out by reading her blog). Her goal is to complete 50 half marathons (1 for every state) before she reaches the age of 50. Follow her in her journey and get inspired yourself!
Allie's two most favorite things are running AND peanut butter. She used to run twice a day but nowadays, due to her work schedule, she just runs as often as she can. Her blog's not really all about running, you'll find other topics like dating, recipes, working out, and travel. Reading her blog's like having a best friend to keep you company. It's all good.
68. Mom's Home Run
Mom's Home Run is an insightful, honest, and straightforward blog by a mom of 5 who once hated (still do, sometimes) running. If you're looking for motivation or just a reason to run, check out her blog. It's clean, simple, and full of wit.
69. 50 by 25
Laura broke the world record for being the youngest woman to run a marathon in all the US 50 states, and she did it before her 25th birthday (2010). With that kind of achievement you'd think she had been running all her life, but no, she started only in 2006! Be inspired by this beautiful runner—check out 50 by 25.
70. Run Infinity
Run Infinity is a good online resource for everything running. You'll find training programs for 5k, 10k, half marathon and full marathons. It also features running stats such as the largest marathons in the US and the world, as well as a list of inspiring movies and books just in case you need a little push. And if that's not enough, Run Infinity also showcases the latest news and updates about running.
Page Williams' love for running is clearly evident in her blog. She pushes herself to the limits and loves every minute of it. Get inspired by visiting Twenty-Six & Then Some. You'll love all those multimedia images and videos on her blog, they're quite amusing.
72. Run Bulldog Run
This isn't a website about dogs that love to run. Rather, it's Steve Speirs' personal blog (who refers to himself as the British Bulldog). It's a big source of information and inspiration for anyone who runs or thinks about taking up running. Steve talks about training, nutrition, cross training, and books. He also shares his opinions about running gear, gadgets and shoes.
73. IronBrandon
Brandon Woods a.k.a. IronBrandon is a triathlete but he also competes in all 3 individual sports (swimming, biking, and running). Check out his podcasts and articles dedicated to running here.
74. H.U.R.T. Hawaii
Hawaiian Ultra Running Team (H.U.R.T.) maintains a blog where they share trail and ultra running information. The site's mostly about race updates and training schedules although these past few weeks they've been talking about the HURT annual 100 mile trail race.
75. Toni Reavis
Toni Reavis is a journalist who covers running news and events, including the New York, Boston, Los Angeles, and Chicago marathons. His blog echoes his personality and character; it's witty, highly opinionated (in a good way, of course), full of info, and never boring.
76. LetsRun.com
LetsRun.com is actually not a blog, it's a resource site for distance running and track and field races, events, and news. If you're looking for a one-stop site for the latest information, it's all here.
77. Diary of a Dashing Fashionista
A former model, "Dash" likes to run and she does it in style. She believes everyone should look good running and her blog gives tips and advice on how you can achieve this. She also shares her own training tips and running goals, and currently, she's training for the Paris Marathon in April 2014 and will also be competing in various short distance races all over the UK.
This blog is Becca's journey from being a couch potato to marathon runner. As someone who had always been slightly overweight, Becca decided she needed a change and that's when she decided to start running. A year later, in 2012, she joined the London Marathon and dropped 2 dress sizes. She continues to lose weight and set new PBs as she gets stronger and fitter. Read all about her experiences and life changes in From Snickers to Marathon.
79. RunDanceRun
This is a personal blog of an avid runner and personal trainer. RunDanceRun is a journal of the author's insights, thoughts, feelings, and experiences.
80. RunningJules
RunningJules is a journal of sorts but for the most part, it focuses on running and motherhood, and the challenges of handling both. She runs, cooks, takes care of the baby, and writes for a living and you'll read all about her life in her blog.
81. The Fat Girls Guide to Running
Julie's on a mission to show the world that fat girls can run and join marathons too. Herself an overweight runner, Julie pours a lot of energy on The Fat Girls Guide to Running, writing articles that will help newbies start running. She also writes reviews of running gear and apparel and even organizes training sessions and boot camps in an effort to get more and more overweight individuals to run.
82. MCM Mama
MCM Mama chronicles one mother's journey towards running a race in all 50 states.  So far, she's completed 26 states but she still has 8 years left until her deadline. Join her in her journey, read all about her challenges and perhaps you too will be inspired to set the same goal.
83. Runner's Luck
Runner's Luck owner Zaneta is a very friendly and enthusiastic blogger and you'll enjoy reading about her running challenges and personal initiatives. She hasn't ran in awhile though due to an injury but you can still read about her training, race recaps, and reviews on her blog.
84. The Bull Runner
The Bull Runner (TBR) is a blog written exclusively by Jaymie who in 2006, decided she's had enough of "walking on the treadmill." She has joined many short distance races as well as half marathons and marathons in Asia and the US. She's a non-traditional runner and she's not the fastest kid on the block. But she's got lots of experience and training, and she's trained with some really great coaches.
The Bull Runner shares with you plenty of tips and advice about food & nutrition, injury & therapy, training, gear & product reviews, and of course her race reports. Read all about this charming lady in The Bull Runner.
85. Run with Jess
Jess is your typical stay at home mom who loves to run. But what you'll like about her blog is that it's very personal, straightforward, and unpretentious.  You can easily relate to her, reading about her weight loss goals and challenges, and how running has helped her change her life for the better.
Like a few other bloggers we've mentioned on this list, she plans to run in all 50 states and a few other international races so she can travel and keep herself fit. Be updated on her Race All 50 journey by visiting Run with Jess.
Andy started Running My Ass Off as a way to motivate and push himself to keep running and become fit. He used to weigh 330 lbs and he eventually lost over 130 lbs by running, walking and counting calories. Check out his then and now pics here. To say it's impressive would be an understatement.
Running My Ass Off is a wealth of information, and you'll never tire of reading Andy's posts.
87. BenDoesLife.com
Here's another inspiring blog for those who want to run to lose weight, or those who just need a little encouragement in running. Ben lost 120 lbs and brought himself out from depression. He has since completed 8 marathons and also finished a couple of triathlons. He's a motivational speaker and has also published a book called Do Life. Be inspired by his story, or laugh at his jokes. There's never a dull moment when you visit BenDoesLife.com.
Jen will tell you how you can still run and stay fit through pregnancy. She also talks about her postpartum race plans and how she balances motherhood with her career and running.
89. OliveToRun
Olive (real name Cori) is funny as hell and I guarantee you will love her blog. Granted, you don't eat, breathe, and dream of running 24/7, you'll love how she creates light-hearted tongue-in-cheek posts that will surely make you laugh. You'll learn a lot of things from her (about running and developing the right mindset), and she also shares her exercise routines and training tips on her blog.
90. View from the Back of the Pack
Linda didn't start running until she was 45 and she never hides the fact that she always finished at the bottom 40% of the pack. But that never pulls her down. She loves running and she'll continue to run for as long and as often as she can. Right now she's training and campaigning for her charity run in the Boston Marathon on April. Follow her journey on View from the Back of the Pack.
Jen's Running with the Girls epitomizes her passion for running, and doing long runs with her girlfriends. If you find running on treadmills boring, and you prefer being outdoors and running over trails, you'll get along with Jen.
However, running with the Girls is not solely about running so if you only want "purely running blogs" this may not be the best choice for you. But if, on the other hand, you like to get to know more about the blogger, and learn some running tips along the way, check out Jen's blog. She also writes product reviews, announces promos and contests of products she likes, and also shares some awesome recipes.
92. RunningCoachSG
Rameshon used to be one of Singapore's best runners and has won first place in 3 international marathon events. Today he's a running coach and RunningCoachSG is where he talks about race events, trainings, and interviews with elite runners.
RunningCoachSG is an excellent resource where you can find race events in Singapore and get invaluable advice from professional runners and from Rameshon himself. There are nearly a thousand posts on RunningCoachSG and they're definitely worth checking out!
If you have experienced a burnout (from running) and overtraining, you can relate to this blog. Chicago Runner Girl (a.k.a. Britt) has been running for nearly 2 decades, and she's still in her late 20s. Check out her training advice and tips about mental preparations and mantras, tempo running, and how to be a well rounded runner. If you need some motivation, she shares her inspiring moments on her blog so you'll never run out of "inner fuel" to push forward.
In addition to the hundreds of helpful advice and info on her blog, Britt offers virtual coaching and she can also create a training plan for you based on your current fitness level.
Adam's self-deprecating humor is nonetheless entertaining and despite his blog's name, he's nowhere near boring. He makes you laugh, gets you inspired, and challenges you to do better. There's plenty of information on his blog, and the photos are too funny to ignore!
95. We Run Disney
I know there are a lot of Disney runners out there, so if you're one of them, We Run Disney is the perfect running blog for you. Pam and Christine (mother and daughter team) both love to run and they love Disney too much they "run through it."
They have all the latest tidbits and news updates about Disney races, including race recaps and advice in case you're planning to join in the next event.
We Run Disney is like an extension of Disney World itself; it's fun, whimsical, and full of positive vibes.
Quirky and funny, Super Generic Girl is a unique blog. You'll find articles like 5 Things Star Wars Can Teach You About Endurance Running and Marathon Training Like the Underpants Gnomes. But really, you'll learn some pretty good stuff by reading this blog.
The Girl That Runs is Zoe's personal blog where she talks about her running challenges, her favorite running gear, and the recipes she uses. She's a very down-to-earth person, she's been running for many years, and she willingly shares with everyone the things she has learned. She gives motivational tips and even provides advice on how you can train in spite of a busy schedule.
You'll like the tone of her blog and her style of writing. It's straightforward and really informative. Plus, she also gives you a glimpse of the running tools she uses, which can be especially helpful if you're a complete newbie to running.
98.  RunToTheFinish
RunToTheFinish is written and created by Amanda Brooks, who herself is a marathon runner, fitness enthusiast and a strong advocate of healthy living. On her website, she shares healthy recipes and meals, running tips, workout programs, motivational and inspirational advice, and book reviews.
Its creator (Erica) started running when she was 38, and has been running for more than a decade. Her first goal was to run and finish in the New York marathon in 2002 (she had only 10 months to prepare). In an expo in 2007, she came across "Running Divas" and that inspired her to name her group (and website) Running Divas Australia.
The blog offers support, friendship, inspiration, camaraderie, advice, and help to runners old and new. It has lots of information about injury treatment and prevention, nutrition, fitness, training, and reviews of various running products.
100. Tom's Next Step
Tom Denniss wanted to run around the world, and he finally achieved that when he completed his 26,000 km run in September 2013. It took him 622 days and 17 pairs of running shoes. He used his blog to track his progress and keep everyone updated. The interesting thing is, Tom never was a long distance runner nevertheless he set a noble goal to fulfill a life-long dream and also to raise funds for Oxfam Australia, an NGO that promotes social justice and helps fight poverty. He raised $50,000 in this mammoth challenge.
The only other person (that I know of) who's ran around the world that's fully documented and therefore undisputed is Jesper Olsen and he completed his first around the world journey in 22 months.
Follow Tom and learn all about his amazing journey by visiting Tom's Next Step where he has documented everything, complete with images and videos. Read all about how he kept on motivating and pushing himself amid muscle strains and blisters. If there's one blog that will truly inspire a runner to keep going, it has to be this one.
Check out Tom's Next Step. Who knows what kind of challenge he'll think of next!
Do you know of other running blogs that you think deserve a spot on this of the best running blogs for 2014?
Please share them with us in your comments.
Want more stuff like this?
We're on a mission to spread meaningful running and marathon content.Sign up for updates and 15 free running workouts, and see for yourself!
–> Click here to subscribe to my mailing list<–

Or Join Now