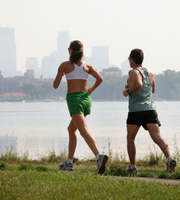 Running is good for our body. It keeps us healthy and it makes us feel good about ourselves.
But you already know that, right?
So instead of preaching about the benefits, I've compiled a list of really interesting facts about running that are sure to make you think twice about surfing the Web all day!
1. Short interval training is an excellent way to burn fat. Sprinting for 8 seconds and then doing a slow run for 12 seconds in the span of 20 minutes can burn 5x more fat than jogging for 40 minutes in uniform speed.
2. After studying about 300,000 Chicago Marathon performances, professors Eric Allen and Patricia Dechow have concluded that women are more likely to achieve negative splits than men.  Women often run the first half conservatively, run faster in the second half, speed up in the last 2 kilometers and finish strong.
3. Runners who wear red clothing are more likely to win during competitions. Researchers from the University of Durham conducted a study on this phenomenon and concluded that the color red signals dominance and higher testosterone levels.
4. According to the American Heart Association, you can prevent cardiovascular diseases by running for a total of 75 minutes each week. That's just an hour and fifteen minutes of running.
5. The New York Times reported that Alzheimer's disease can be prevented through running. According to the report, a study made by Washington University scientists found that elderly mice put on a running program experienced less dementia than those that didn't run.
6. Exercise in general is known to improve bone health and increase bone density. University of Michigan researchers conclude that running as little as 12 – 20 minutes 3x a week can lead to greater bone density.
7. Running can keep you healthy and strong. However, running too much can also make you sick. Those who log at least 80kms per week doubles their risk of respiratory illness. Those running 20-30kms a week have better immune systems and less likely to get sick.
8. Men run faster than women due to a number of factors : they have more muscle mass, bigger lung capacity, a slightly higher hemoglobin in average and higher levels of sex hormones such as testosterone. Running economy, however, tend to be similar.
9. On the other hand, women who get in shape through running, quickly experience big changes. Their legs and back become toned more quickly and they also lose a few inches off their waists faster than men.
10. Drinking water within an hour before a long run will likely lead to a bathroom break during your run. If you're joining a competition, you could lose precious minutes just waiting in line for your turn in the loo. However, it's a good idea to drink 4-8 ounces of water about 5 minutes before you start.
11. Eating less and running more is never a good idea. The body burns more fat during and right after a run so if you eat less while increasing mileage, you could force your body into hibernation. That is, it will conserve (instead of burn) calories thereby ruining your plans of losing weight.
12. Exercise breast milk doesn't taste good. It contains large amounts of lactic acid, making it taste quite sour. If you are breastfeeding, it's best to nurse your little one before your run, or collect milk to feed your child later.
13.  A 160-pound individual could burn as much as 606 calories/hour running at a speed of 5 miles/hour. The heavier you weigh, the more calories you burn.
14. Running boosts your sex drive. Two and a half hours of running per week increases testosterone levels by 15% in men. Women, on the other hand, experience arousal and organism due to the increased blood circulation.
15. Running works better at lowering your blood pressure levels than drugs and diet. Studies have shown that running for an hour a few times a week can lower your BP readings by as much as 12mgs.
16. The world record holder for the fastest mile run is Hicham El Guerrouj, at 3:43.13. For women, the title belongs to Svetlana Masterkova, at 4:12.56.
17. The longest distance ever run in a year (365 days) was 27,011 kilometers and the title belongs to Serge Girard, a French ultramarathoner, who ran around 25 countries in EU, everyday for one whole year.
18. The world's fastest runner is Usain Bolt. He's a 27-year-old Jamaican sprinter who holds the world record for 100m (9.58s) and 200m (19.19s) dash. This guy's a 4-time Olympic gold medalist, and earns $20.3 million a year making him the 63rd highest paid athlete in the world.
19. The 2013 New York City Marathon had 50,304 finishers making it the largest ever based on the number of runners who reached the finish line. On the other hand, the largest half marathon based on the number of participants is the Gothenburg half marathon in Sweden with 59,417 registered runners and 43,026 finishers.
20. In the United States, there were 44.6 million pairs of running footwear sold in 2012 amounting to $3.04 billion in sales. It's also been estimated that about 1 billion running shoes are sold around the world annually.
21. Wilson Kipsang is the world record holder for the fastest marathon time at 2:03:23 which he achieved in the 2013 Berlin Marathon.
22. Paula Radcliffe holds the women's record with a time of 2:15:25 which she set in the 2003 London Marathon.
23. The youngest marathon runner is Budhia Singh who started training at age 3 and completed 48 marathons before he reached the age of 5. The oldest is Fauja Singh who ran the 2011 Toronto Marathon at age 100.
24. 45% of runners have completed between 2-5 half marathons while 50% never tried a full marathon.
25. There are about 570 marathons held in the United States every year and approximately 0.5% of the US population has run a marathon.
26. Some of the world's famous celebs and politicians who've ran a marathon include Oprah, Sean Combs, Katie Holmes, Will Ferrell, and George W. Bush.
27. Runners who played sports when they were young are 50% less likely to suffer from fractures and injuries.
28. Of the top 20 distance runners in the world, 12 are members of a Kenyan tribe known as Kalenjin. Experts have attributed their speed and endurance to the shape of their bodies; they have thin ankles and calves. Their success in the sport can also be due to their traditions and practices that made them not only physically strong but also mentally tough.
29. The yearly average injury rates of runners  is between 24-68%. About 2% – 11% involve the hips while 13% – 17% are shin splints.
30. According to the American Journal of Clinical Nutrition, running as well as other types of vigorous physical activity reduces a person's overall risk of a heart attack by as much as 50%. They are also less likely to suffer from strokes, diabetes, and other lifestyle diseases.
31. Running 20 miles per week will increase your chances of living longer. A study made by researchers at the University of South Carolina found that there's a 20% lower mortality rate for those who run 20 miles or less each week.
32. 20% of the world's population don't have the "marathon gene." A study by Loughborough University scientists found that 20% of people are simply not able to run a marathon in a good time despite having sufficient training.
33. According to the Journal of the American College of Cardiology, the risk of a heart attack during a marathon event is 1 in 75,100. However, a London study says the risk is much lower, at 1 in 89,000 or 8 deaths among a total of 712,000 runners. You're more likely to die riding a car (1 in 6,535).
34. Wearing cheap running shoes lowers your risk of injury. A researcher from the University of Bern analyzed 4,358 runners and found that shoes that cost over $95 had double the chances of injury than those who wore shoes that cost $40 or less. The Medicine & Science In Sports & Exercise also had similar findings, and further stated that runners who wore shoes with features like added cushioning were likelier to get injured.
35. Running (and preparing for) a marathon improves job performance. Running is an excellent way to become healthy but according to a Rhode Island College research, it can also boost your productivity and increase your creativity. Additionally, because preparing for a marathon requires planning, discipline, dedication and perseverance, it also leads to a significant improvement on your overall personality and character.
36. The "runner's high" or that natural high you feel after a run is a real phenomenon. The Oxford Journal published a study in which 10 athletes were analyzed at 2 different occasions at rest and after 2 hours of running. It was found that the level of euphoria was increased significantly after running.
37. Runners' bodies have the ability to store 2,000 calories worth of glycogen, which is enough to fuel 18-20 miles of running.
38. The world's oldest and biggest ultramarathon event is held in South Africa, it's known as the Comrades Marathon, a 90km distance event that attracts over 20,000 participants.
39. Running works out 26 bones, 33 joints, 112 ligaments and a whole network of tendons, nerves and blood vessels. And we're only talking about the feet here.
40. Compression garments are effective. Runners who wear compression socks that are knee-length reported to have run faster on the treadmill by at least 6% whereas sprinters reported 43% less soreness after a workout.
41. The world record holder for the fastest marathon wearing a suit and tie is Adam Campbell who finished at 2:35. Another fella, Vinny O'Neill won the title fastest marathon in full rhinoceros costume complete with horns, at 4:17:27.
42. The fastest animal on earth is the cheetah and the slowest is the garden snail.
43. You'll know when you're running too fast when you can hardly complete a sentence. However, when you can maintain a conversation while running, you may need to push the gas pedal a little.
44. Not all top runners are under a hundred pounds. Peter Maher, who weighs 210lbs, finished a 2:11 marathon.
45. Running in cold weather is safer than running on a hot day. This is because you are likely to become dehydrated when running with the sun over your head; sweating out 3-4 pints of fluid every hour.
Did you like this post ?
I'd love to hear from you in the comments and please share + tweet if you did 😉
Want more stuff like this?
We're on a mission to spread meaningful running and marathon content. Sign up for updates and 15 free running workouts, and see for yourself!
–> Click here to subscribe to my mailing list<–